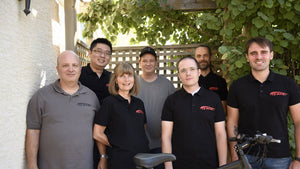 "DJ Bikes is about Family. We're a FAMILY BUSINESS, AND WE CONSIDER OUR CUSTOMERS OUR FRIENDS. WE TRULY CARE ABOUT YOU!"
DJ Bikes started as a dream of Daniel and his wife Jolin (the D and J of "DJ") in Calgary, Canada.
They loved the outdoors, Daniel was a "weekend warrior" on the basketball court, and both were active hikers and daily commuters using public transportation. When Daniel had the chance to ride an electric bike he immediately caught the vision: e-bikes are the future of commuting and recreational cycling, and everyone – regardless of age and ability – can benefit from and enjoy riding electric bikes.
Little did he know that vision would change the trajectory of their lives, and in short time significantly impact the electric bike world.
In 2017, Daniel quit his full-time job, and he and Jolin took their love of sports and the outdoors, and 15 years of technical consulting and design experience, to create their own brand, DJ Bikes. The family committed to make eco-friendly, high-quality, and economical e-bikes accessible to all, and to do it with a personal touch unique in the e-bike world.
Every single product was fully designed and tested by Daniel to meet the high -quality demands of North American customers. And he was determined to create not just an excellent product, but an excellent experience.

From 2017 to 2019, Daniel and Jolin ran the business themselves. They designed and built products, personally served customers by answering calls themselves, and committed to bring DJ Bikes to the market with integrity, enthusiasm, and features and prices no other e-bike company could compete with.
They listened to their customers and eagerly received their feedback. Not surprisingly they quickly built a loyal customer base. In just two years DJ Bikes experienced a 12-fold increase in sales and in 2020 was named one of Canada's Top 50 Business Startups! That momentum continues today.
In 2020, Daniel and Jolin expanded DJ Bikes by bringing alongside passionate co-workers, both in-house and across North America, including like-minded customer service specialists and expert bike mechanics. Perhaps more importantly, many customers have become "product evangelists", actively sharing their love of DJ Bikes with their families, friends, and neighbors wherever they go. The enthusiastic community of DJ Bikes owners is exploding all across North America, and for good reason!
Looking back over their short journey, Daniel and Jolin know their adventure has been filled with grace. They know the future is promising because they are dedicated to making their customers' experiences personal, professional, and positive, not to mention bringing the joy of owning and riding a DJ Bike!

"ANYONE CAN ENJOY CYCLING. FEEL YOUNG AND HAVE FUN!"