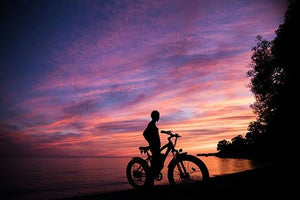 Customer Referral Program
Now Riding Is Evan More Rewarding
DJ BIKES IS EXCITED AND PROUD TO ANNOUNCE ITS NEW CUSTOMER REFERRAL PROGRAM!
We wondered how to invest our marketing budget and couldn't get past our passion for our customers. Our desire and goal are to share the success of DJ Bikes. So, we decided to build a referral program that has an immediate benefit to our loyal customer base. Win-win!
The Referral Program allows you to share your riding experience while getting rewarded. Your referrals, whether to family, friends, or strangers on the bike path, will receive a 5% discount off their order, while you will receive 5% coupon of their purchase value as your reward. If you are a DJ Bikes owner, then you can redeem the coupon as a cash back!
HOW DOES IT WORK?
Step 1:


Sign Up or Sign In

Sharing is super easy! Just click the Get Started Now button on this page. After the Referral Program window opens, choose Join Now if you do not have a DJ Bikes account or Sign-In if you do.
Step 2:


Share

Once you finish the login, your personal Referral Link will be automatically generated. Click on the copy button to the right of the code, and you can share it by Email, Facebook or Twitter.
Step 3:


Purchase & Save

When your friends or family shop via your Referral code:

they will receive a 5% discount on their orders instantly.
you will receive a 5% coupon based on their purchase value.
You can redeem the coupon code to purchase anything at DJ Bikes website. If you have a previous purchase at DJ Bikes website, please contact us and let us know. We can redeem your coupon code manually and refund the money back to your original purchase. The more you refer, the more you will earn!